Goal #406 Completed: Buy a Brand New Car
Well, here's a quick one just to help get me back in the swing of things.
In February I bought a 'new' car!! I call it 'new' because, in actual fact, it was an ex-demo meaning that it had around 100km on the clock when we picked it up – so not technically brand new… but I'm going to count it.
We upgraded our Holden Captiva, which was getting a little long in the tooth, to a seven seater Kia Rondo. It's the weirdest looking car. I'm pretty sure I've never, ever seen another one on the road. We took it down to Sydney in February and it was positively dreamy. The fuel economy is amazing. Coming from the Captiva though, the boot space was kind of cozy.
Fast forward to June…. and disaster stuck when Mitchell was rear ended on his way to work: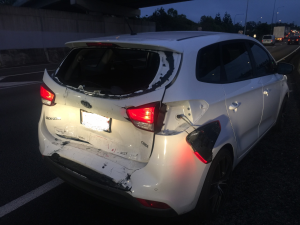 It took almost two months before we got it back and to date, it is still not finished being fixed. Thank goodness Mitchell wasn't injured! The time it's taken to receive the parts from Kia is beyond ridiculous though.
So there you go. We got a new car and broke it.